All you need is five ingredients and 15 minutes to make the ultimate zucchini pancakes! I made this batch with chickpea flour which adds a bit of protein and fiber. This also makes it a gluten-free 'pancake'.  On The 1:1:1 Diet you can add a protein on the side- a few slices of turkey bacon or sausage. The sour cream is the fat or you can use guacamole with salsa verde.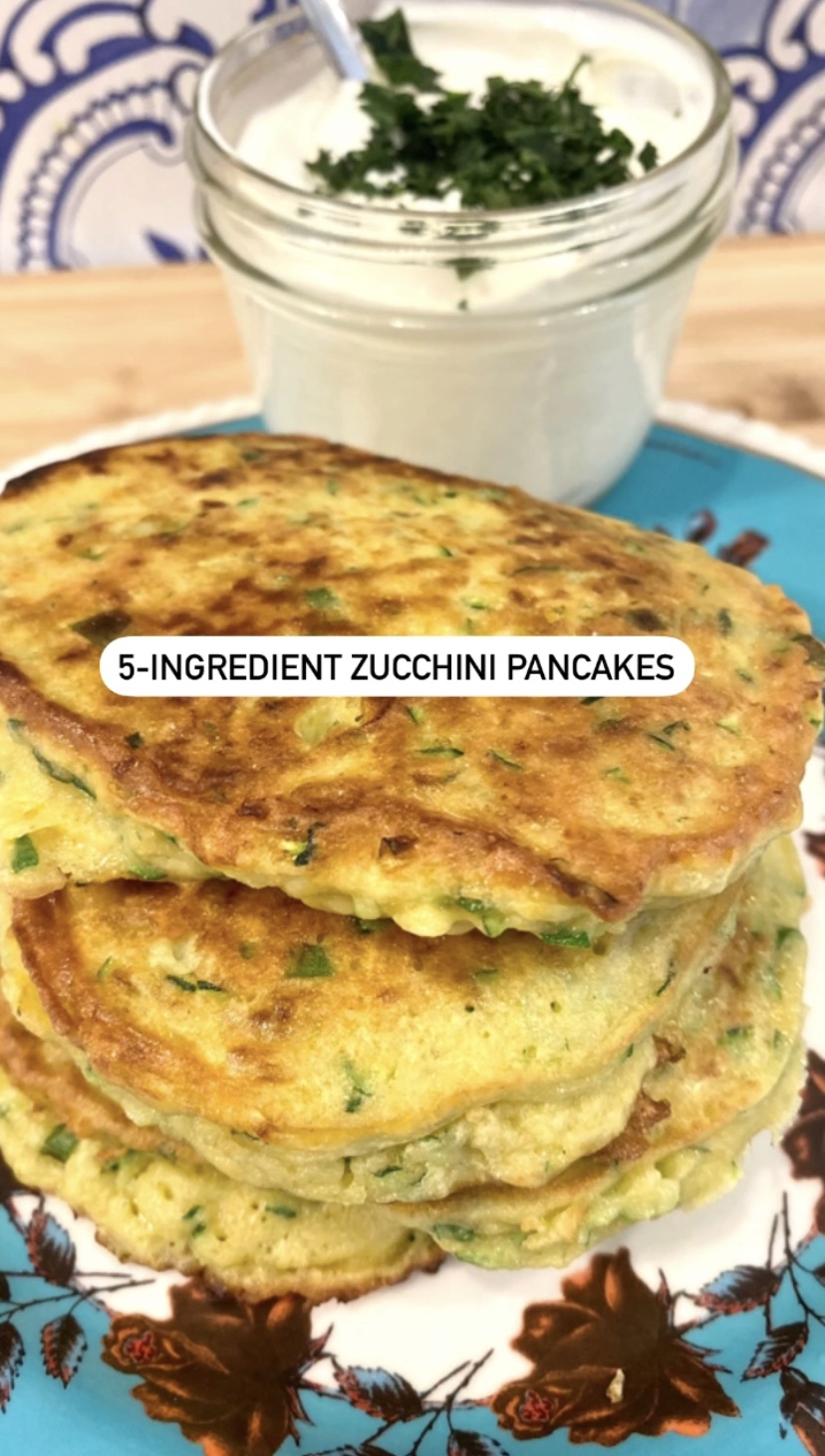 INGREDIENTS:
2.5 cups of shredded zucchini
1.5 cups chickpea flour
3 large eggs, lightly beaten
¼ cup of sliced scallions (green and white parts)
1.5 tbsp. of avocado oil (for frying)
INSTRUCTIONS: Place the shredded zucchini in a colander set over a bowl and sprinkle the zucchini lightly with salt. Allow the zucchini to stand for 10 minutes. Using your hands, squeeze out as much liquid from the zucchini as possible.
Transfer the zucchini to a large bowl. Add the flour, eggs, sliced scallions, 1/4 teaspoon salt stirring until the mixture is combined. Add the avocado oil to large sauté pan set over medium heat.
Once the oil is hot, scoop zucchini mixture (to your desired size) into the pan, pressing them lightly into rounds and spacing them at least 2 inches apart.
Cook the zucchini fritters for 2 to 3 minutes, then flip them once and cook an additional 2 minutes until golden brown and cooked throughout. Transfer the zucchini pancakes to a plate and immediately sprinkle them with salt. Repeat the scooping and cooking process with the remaining zucchini mixture.
Serve the zucchini fritters topped with sour cream (optional) and chopped cilantro.