You might not have had pizza for breakfast since college, but this version is nutritionist approved. Kids love this breakfast, and so will you.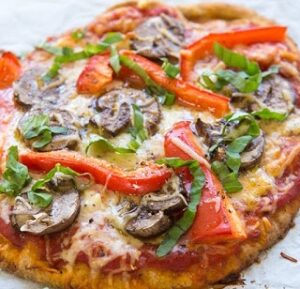 INGREDIENTS:
1 pre-baked whole wheat pizza crust
2 cups (8 ounces) shredded mozzarella cheese, divided
8 eggs
1⁄4 cup water
Cooking spray
1⁄2 cup finely chopped onion
1⁄2 cup thinly sliced mushrooms
1⁄4 cup chopped green bell pepper
1⁄4 cup chopped red bell pepper
1 clove garlic, minced
4 basil leaves, chopped
DIRECTIONS:
1. Preheat the oven to 400°F. Put the pizza crust on a baking sheet. Spread 1⁄4 cup of the cheese evenly over the crust. Set aside.
2. In a medium bowl, whisk the eggs with a fork until well combined. Add the water and whisk again to lighten the mixture.
3. Coat a nonstick skillet with cooking spray and set it over medium-high heat. Add the egg mixture, onions, mushrooms, red and green peppers, and garlic. Scramble the eggs until cooked through but still moist, about 8 minutes.
4. Spoon the egg and vegetable mixture evenly over the pizza crust. Top with the remaining cheese. Sprinkle the basil evenly over the top. 5. Bake for 20 minutes, or until the center is hot and the cheese is completely melted. Remove from the oven and cool for 5 minutes. Cut the pizza into 8 slices and serve. Serves 8.
A single serving of this recipe is a complete 1:1:1 meal.