This quinoa power bowl packs in as much color as it does flavor! Vegan, plant powered, high in fiber, and antioxidants, this salad is made with simple ingredients plus a delicious homemade pomegranate vinaigrette (recipe below). The pomegranate juice boosts your antioxidant intake, and also gives the vinaigrette a sweet and savory flavor profile that pairs so nicely with the apples and Brussels. Serves 6.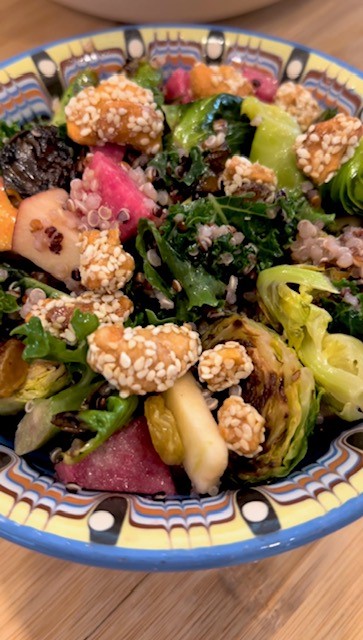 INGREDIENTS:
SALAD:
3 cups of kale
1 cup of quinoa, cooked
5 cups of apples, chopped
5 cups of roasted Brussels sprouts
1/3 cup of watermelon radish, chopped
¼ cup of golden raisins
¼ cup sesame honey cashews (or any nut/seed)
DRESSING:
2 garlic cloves, minced
1 tbsp. Dijon mustard
1 tbsp. honey
1/3 cup POM Wonderful 100% Pomegranate Juice
1/3 cup red wine vinegar
1/8 tsp. sea salt or kosher salt
½ cup of extra virgin olive oil
Combine ingredients into a mason jar. Shake well before serving.
INSTRUCTIONS:
In a bowl, add the kale. Dress with the pomegranate vinaigrette. Toss.
Combine the remaining ingredients and toss in between.