Using bone-in chicken and leaving the skin on adds more flavor to the finished dish. You can also increase the flavor by using a good-quality olive oil and covering the chicken for 10 to 15 minutes after you dress it. If you have leftovers, make a wrap for lunch the next day.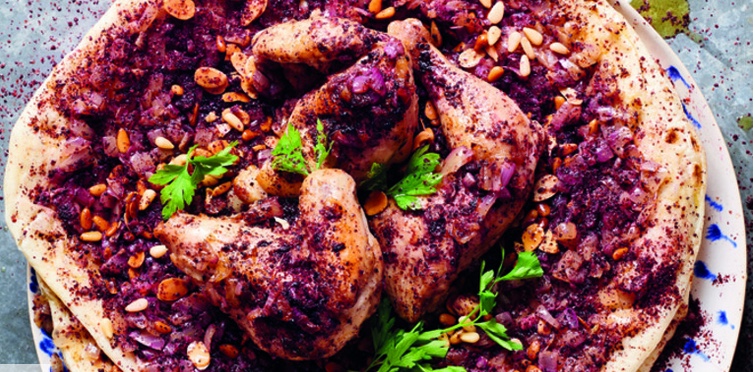 Ingredients:
3 pounds bone-in chicken pieces, with skin
1⁄4 cup extra virgin olive oil
Salt
Freshly ground black pepper
2 1⁄2 cups chopped red onions
1⁄4 cup ground sumac (available at many specialty stores)
1⁄2 cup toasted pine nuts
Directions:
1. Preheat the oven to 400°F. Place the chicken in a 13″ x 9″ baking
pan, brush it with 1 tablespoon olive oil, and sprinkle it with salt and
pepper.
2. Bake for about 45 minutes, or until a thermometer inserted in the
thickest portion registers 170°F and the juices run clear.
3. While the chicken is baking, in a medium saucepan, cook the red
onions in 1 tablespoon of the olive oil until soft, about 10 minutes.
Set aside.
4. When the chicken is cooked, allow to cool, then remove the skin
and bones. Shred the meat and place it in a bowl.
5. In a separate bowl, combine the remaining 2 tablespoons olive
oil, sumac, and salt to taste.
6. Dress the shredded chicken with the olive oil mixture.
7. Top the chicken with the onions and pine nuts. Use clean hands
to mix all ingredients thoroughly.
To make a wrap:
1. Preheat the oven to 350°F. Place 3⁄4 cup Chicken Sumac in a whole
wheat, high-fiber, or white flour tortilla and fold it like a burrito.
2. Lightly brush the wrap with olive oil and bake it for 5 to 7 minutes,
or until golden.
3. Cut in half and enjoy.
Make it 1:1:1:  In a wrap, a single serving of Chicken Sumac is a complete 1:1:1 meal. Instead of a tortilla, you could also have rice as your carb.
1:1:1 Accelerated option: Enjoy this with a dollop of plain low-fat or whole-fat yogurt and a side salad.
Modification Option: You can also prepare this dish and marinate the chicken in a sumac/olive oil and then brush with the same marinade after it bakes. Skip steps 4, 5 and 6.
Photo credit: Joudie Kalla