While they are a favorite toast topper, avocados are great choice to replace other types of fat in baked goods. The substitution of avocado in baked goods helps increase their nutritional value by contributing nearly 20 vitamins, minerals and phytonutrients. In addition, over 75% of the fat in avocados is unsaturated (monounsaturated and polyunsaturated fats), making them a great substitute for foods or ingredients high in saturated fat. To top it off, avocados contain a high water content, so they can also make treats softer, chewier and less likely to crumble. Also, light color baked goods may take on a pretty green hue from the avocado.
Avocados can be used as a substitute for butter and/or oil in your favorite baked good recipes like cookies, cakes or muffin recipes. The same applies to this recipe for Chocolate Avocado Brownie which pairs perfectly as a snack with a yogurt or latte. You can also enjoy it as your carb/fat with any meal as a dessert! Bonus, they are also gluten-free!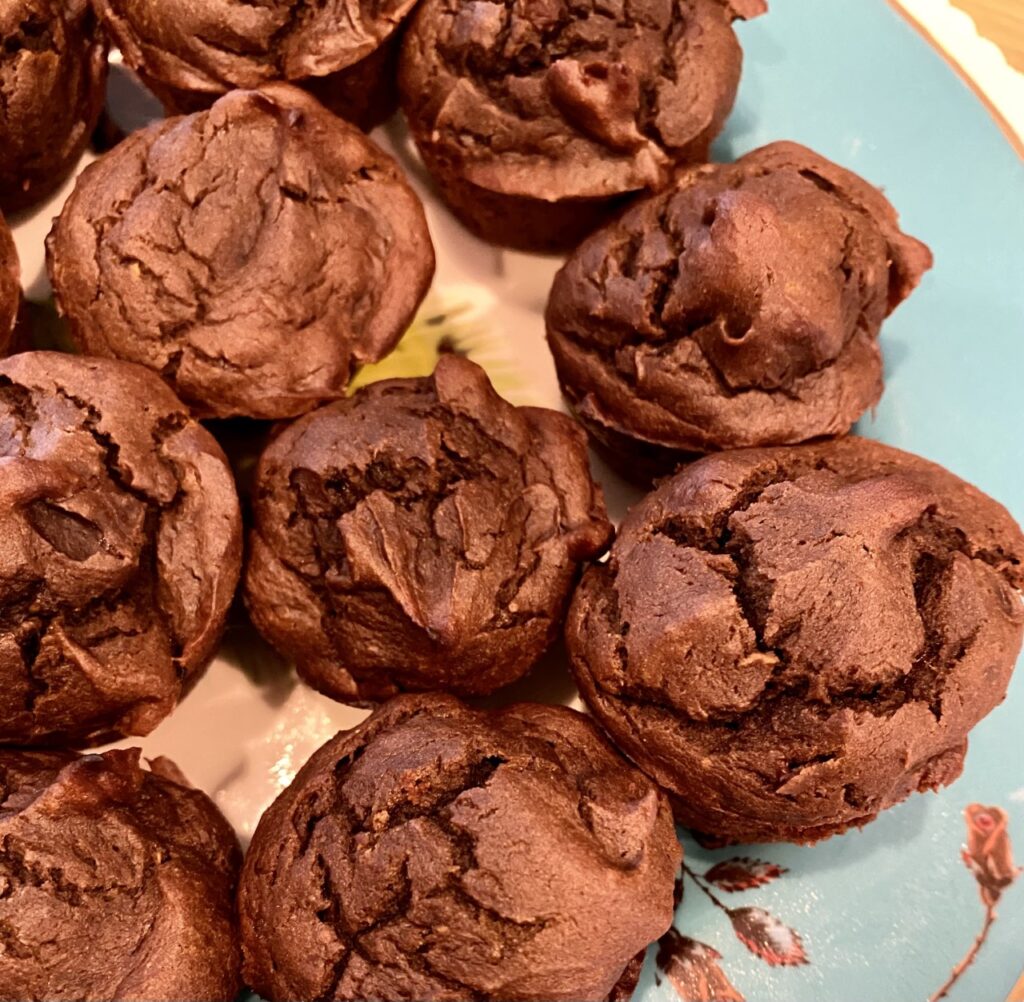 Ingredients:
2 medium, ripe avocados skin and pit removed (halve the avocado and scoop out with a spoon).
1/4 cup of honey
1/4 cup sugar in the raw
2 large eggs
1 teaspoon pure vanilla extract
1/2 teaspoon baking soda
3/4 cup Trader Joe's All Purpose Gluten Free Flour
1/2 cup unsweetened cocoa
1/2 teaspoon salt or pinch of sea salt
1/2 cup semi-sweet chocolate chips
Directions:
Preheat oven to 350 degrees and set aside a lightly greased 12 cup mini muffin pan.
In a bowl, mash the avocado with the sugar and honey.
Add the eggs and vanilla extract. Mix well so that all of the ingredients are blended together.
Gently add in the flour, baking soda, salt, and cocoa and mix well.
 Stir in the chocolate chips using a spoon or spatula.
Pour batter into mini muffin pan. Bake for 25-30 minutes or until done. Use the toothpick test to see if it is fully cooked.
Remove from heat and let cool before cutting into squares. Enjoy!
Prep Time: 5 minutes. Cook Time: 30 minutes. Total Time: 35 minutes
Recipe Yields 12 Mini Muffins