If you are looking for a lower-carb meal, then look no further! This pan sheet dinner has everything you need for a delicious dinner (and leftovers!). The Mediterranean flare in this recipe comes from the Kalamata olives, artichoke hearts, sun-dried tomatoes, capers which bake so nicely with the salmon.
The salmon is topped with chopped pistachios which really elevates the dish. Using pistachios, a complete protein, you also add healthy fats and fiber which helps to make each bite even more satisfying.
Plus, about 90% of the fats found in pistachios are unsaturated, for a trio of nutrients that may help keep you fuller longer. There is nothing easier than this delicious dinner that you can prepare with simple ingredients that you can find ready to go at the grocery store.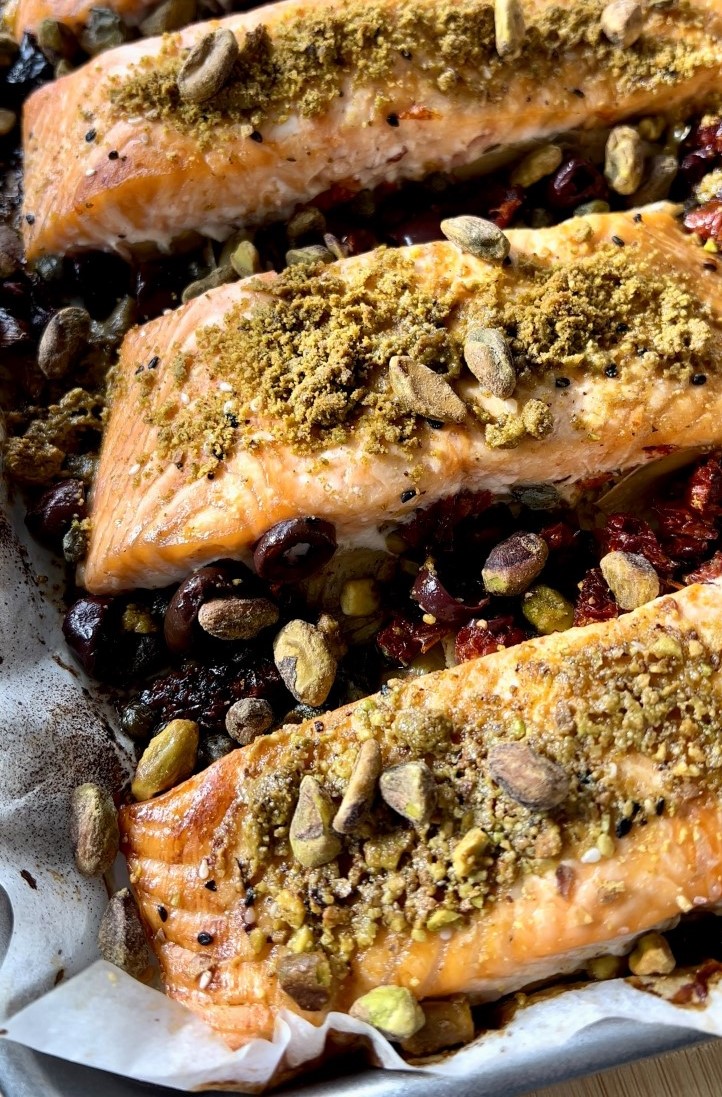 Ingredients: 
6 (6 ounce) skinless salmon filets, wild if you prefer
½ cup Kalamata olives, pitted, chopped in half
12 ounces jarred, Marinated Grilled Artichoke Halves (sliced in half again)
1/2 cup finely chopped sun-dried tomatoes
3 tbsp. capers
salt and ground black pepper to taste
1 cup Wonderful Pistachios, Roasted & Salted No Shells, chopped or ground
1 lemon
Instructions: 
Preheat the oven to 400 degrees Fahrenheit.
Wash and pat dry the salmon filet
Place salmon filets on parchment paper, and season with salt and ground black pepper.
Squeeze the juice from the lemon onto the salmon
Place remaining ingredients arranged around the salmon
Bake for 15 minutes
Remove pan from oven and spread ground pistachios on top of the salmon fillets, coating evenly.
Place back in oven and allow to cook for another 5 minutes.
Remove from oven. Salmon should be cooked but still tender and moist
This is the perfect meal if you are on Accelerated 1:1:1. If you are on Traditional 1:1:1, you can add a carb on the side.