Made with 6 simple ingredients, this salad gives low-carb lovers another option to enjoy at a BBQ or picnic. The cauliflower florets are baked in the oven until tender and develop a delicious roasted flavor. Full of color and texture, this salad is sure to satisfy your guests. On the 1:1:1 Diet, this salad counts as your FAT.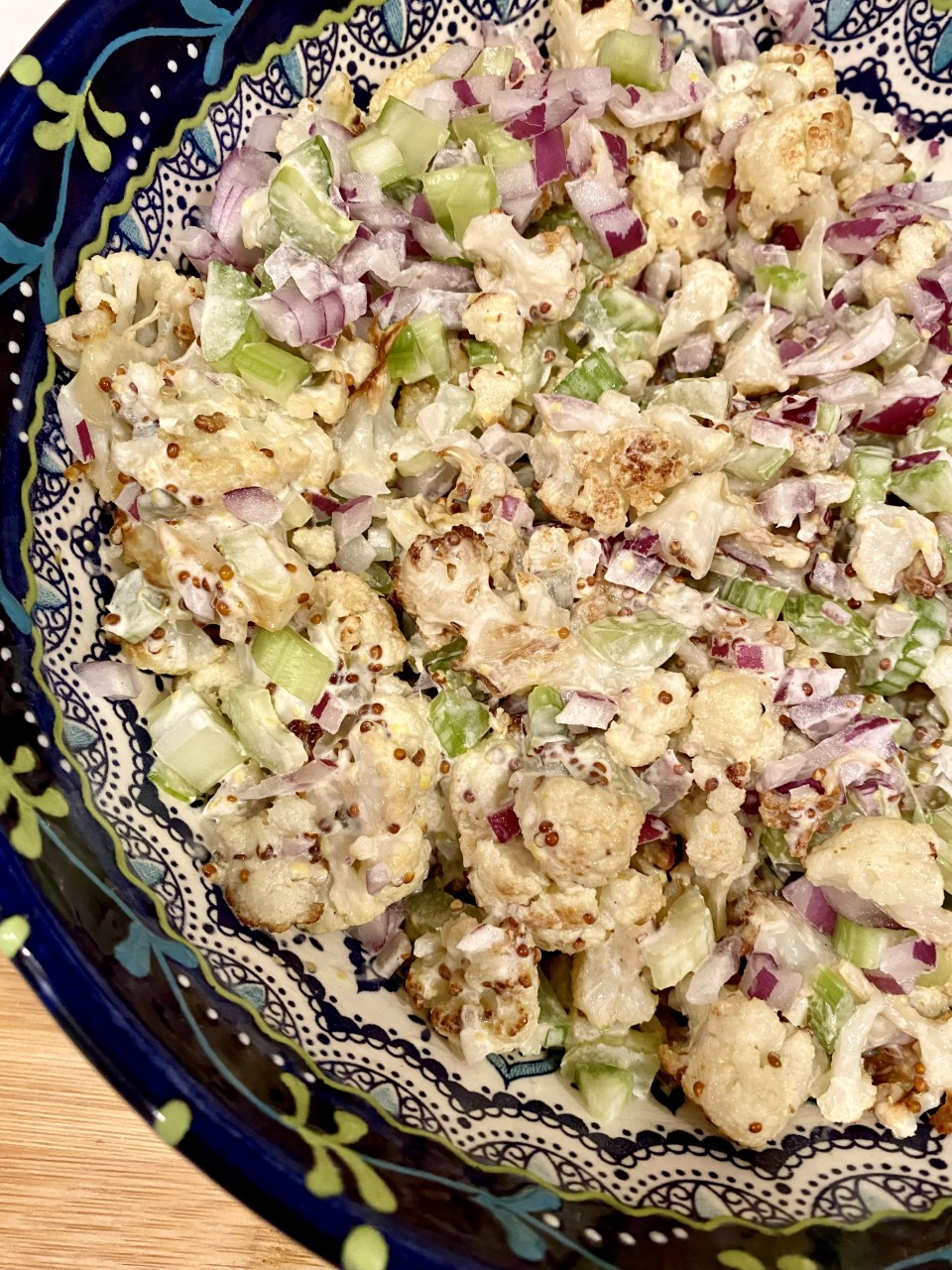 INGREDIENTS:
2 large heads of cauliflower chopped into florets (6 cups)
2 tbsp. avocado oil
3/4 cup celery finely chopped (you can add as much as you would like)
1/4cup red onion finely diced
3tbsp chives finely chopped
3tbsp parsley finely chopped
1 tbsp. garlic seasoning
DRESSING:
1.5 cups avocado oil mayo
¼ cup chopped pickles/relish
¼ cup Dijon mustard
5 tsp. salt
INSTRUCTIONS:
Preheat the oven to 350 degrees
Cut the head of cauliflower into florets and place on a baking sheet or parchment paper. Drizzle the cauliflower with olive oil or avocado oil, sprinkle garlic seasoning, and bake in the oven for 20 minutes until the cauliflower is tender and slightly golden in color.
Make the dressing in a separate bowl by combining the avocado oil mayo, pickles, and Dijon mustard, and whisk together.
Once the cauliflower is tender, remove from the oven and allow to cool before transferring to a salad bowl.
Combine roasted cauliflower with the dressing and toss.
Pour red onion, celery, some chives, and parsley into the salad bowl. Mix well.
Serves 8. One cup is a 1:1:1 Portion
Sprinkle chives and parsley on top. Enjoy
For more recipes, follow Rania on Instagram!