These Pumpkin Zucchini Muffins are extra moist and studded with chocolate chips! Make extras and stick them in the freezer for later! These muffins are gluten-free as the recipe calls for almond flour. They are delicious paired with a latte or a Greek yogurt for a boost of protein or enjoyed as your carb/fat after a protein/vegetable dinner.
Using avocado oil when baking adds a subtle flavor. Calorically, it is the same as other oils that you may traditionally use. Zucchini adds moisture, texture, and nutrition. Make sure you squeeze the water out after you have shredded the zucchini (you can use a paper towel) because you don't want that added moisture to throw off the balance of the other ingredients.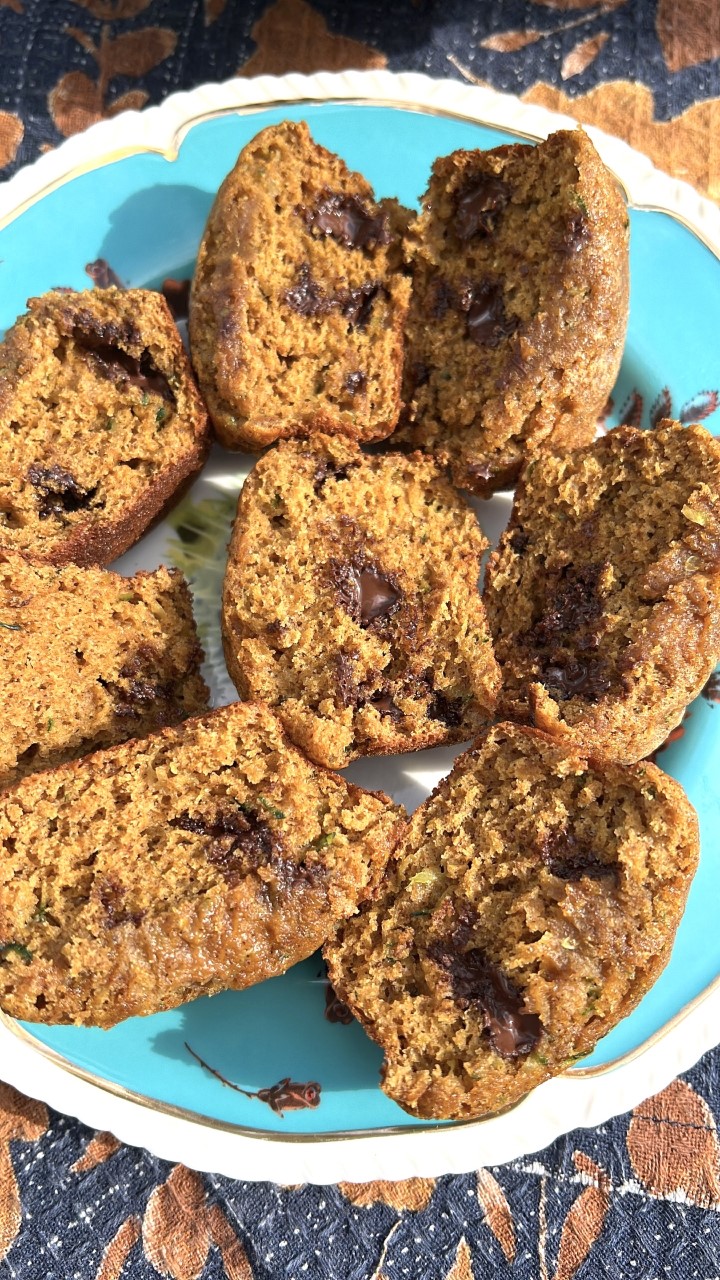 Ingredients
3 eggs
1/3 cup sugar. I like sugar in the raw
1 c. canned pumpkin
½ cup of avocado oil
1 T. vanilla
1 1/4 cups shredded zucchini
3 c. almond flour
1 tsp. baking soda
1/2 tsp. salt
2 tsp. cinnamon
1 tsp. ground nutmeg
1/2 tsp. cloves
½ tsp. allspice
1/2 tsp. ground ginger
1 1/2 c. mini chocolate chips
Avocado oil to spray muffin tin
Instructions
Beat eggs and sugars.
Add pumpkin, shredded zucchini, oil, and vanilla. Mix again.
In a separate bowl combine flour, baking soda, salt, cinnamon, nutmeg, ginger, and cloves and allspice. Gradually add dry ingredients to pumpkin mixture and mix until combined.
Add chocolate chips and stir.
Spray the pan and Fill 1-2 to 3/4 full.
Bake at 350 degrees for 18-23 minutes. Test for to see if they are done with a toothpick.
Cool in muffin tin for 5 minutes. Remove to a wire rack to continue cooling. Store in an airtight container for up to 3 days. Or freeze in a sealable bag for up to 3 months.