Rania has truly changed my life. I have lost 45 pounds since I started working with her and more important than the weight that I have lost, it is how I feel and my overall health. When I saw my doctor for my physical, she was so pleased with my progress. I am no longer prediabetic, my blood pressure is in a normal range, and I feel strong. Rania has encouraged me to shift some of my energy and time into resistance training which has made a world of difference on my body composition. Over the past year I have become less attached to the weight and number I have in my head. When I see this type of a transformation of losing  40 pounds (which for some sounds like a lot, and for others, maybe not enough),  I am amazed that I was able to do this without giving up my favorite foods.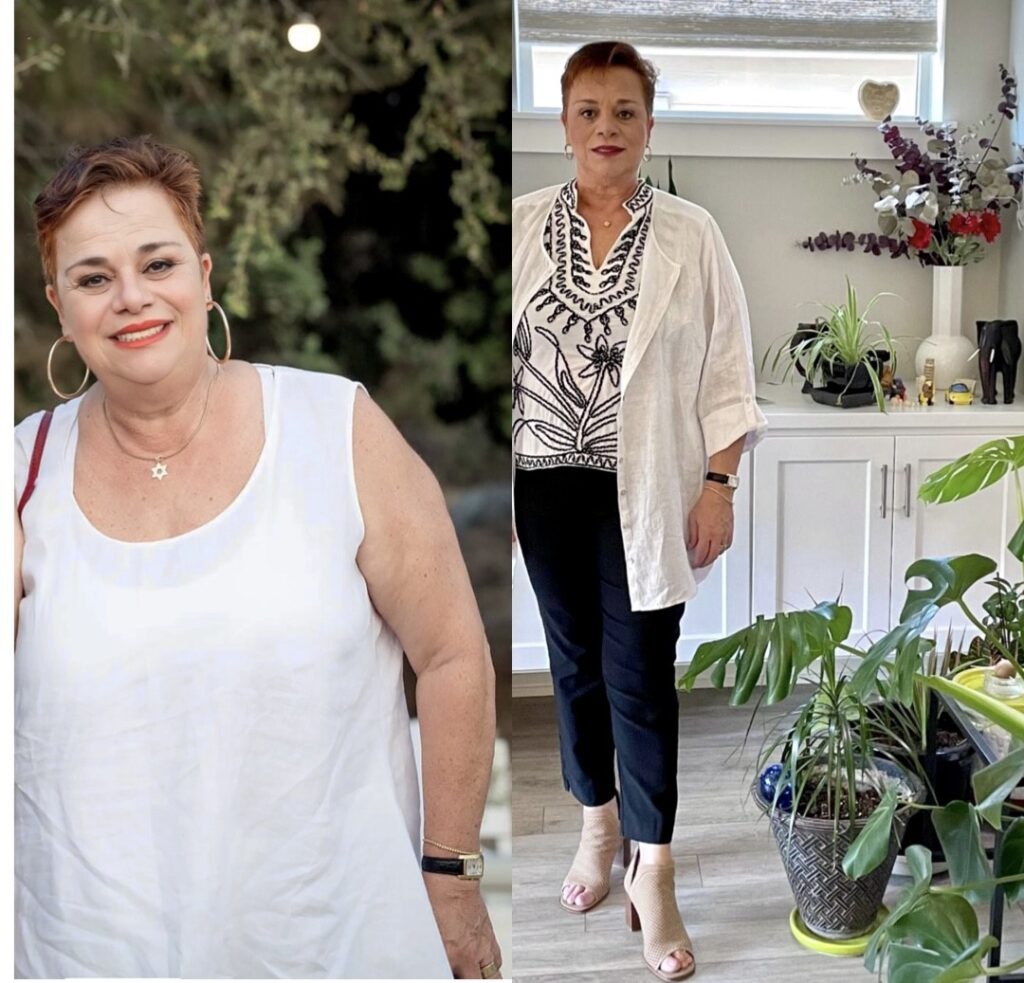 During the weeks when I am traveling and or have holidays and celebrations with family, I can now maintain my weight which is something I was not able to do for decades. Once I 'blew' it on any previous diets, I just threw in the towel. With 1:1:1, I understand exactly how to get back on track.
I can't speak highly enough about Rania. She is a role model, takes care of herself and practices what she preaches. She is so real about what she does in her life and even shares how she sets her day up, recipes and food combinations she likes, as well as being an incredible listener. She truly is an eating strategist. I have never met anyone who is as calm and confident about the work she does. Listening to her gives me a sense of security and she always reminds me to 'trust the process'. She has become a friend and swimming partner along this journey and I am so thankful.
I enjoy cooking, and I am so happy that I do not have to buy "special" foods made with chemicals.  I think everyone who wants to lose weight and really learn how to eat should read her book or reach out to her. She always replies to messages on Instagram, and I am also a part of The One One One Diet group on Facebook. She has dedicated her career to nutrition. I can't believe I am actually working with the author of the book. She is the real deal.
I lost 8 pounds the first month we worked together.  From there, my weight kept going down. Sometimes at a pace that I was surprised at, and other times there were moments of maintenance. While this felt frustrating, Rania reminded me that this is where my body wants to be right now. Then we would l get on a call, strategize, and boom, my weight would start coming down.
One of the strongest motivators for me right now is my son's wedding. I can not even believe that I am trying on (and returning) items that are a size I haven't worn in quite a while because they are too big! This journey and the 1:1:1 Lifestyle is something that I embrace, and will be grateful for, forever.