Grilling fruit is a great way to bring out the natural sweetness and slightly caramelize fruit. This Summer Salad with Grilled peaches is delicious and refreshing. Full of color and flavor, this is a complete 1:1:1 salad that is light, yet satisfying!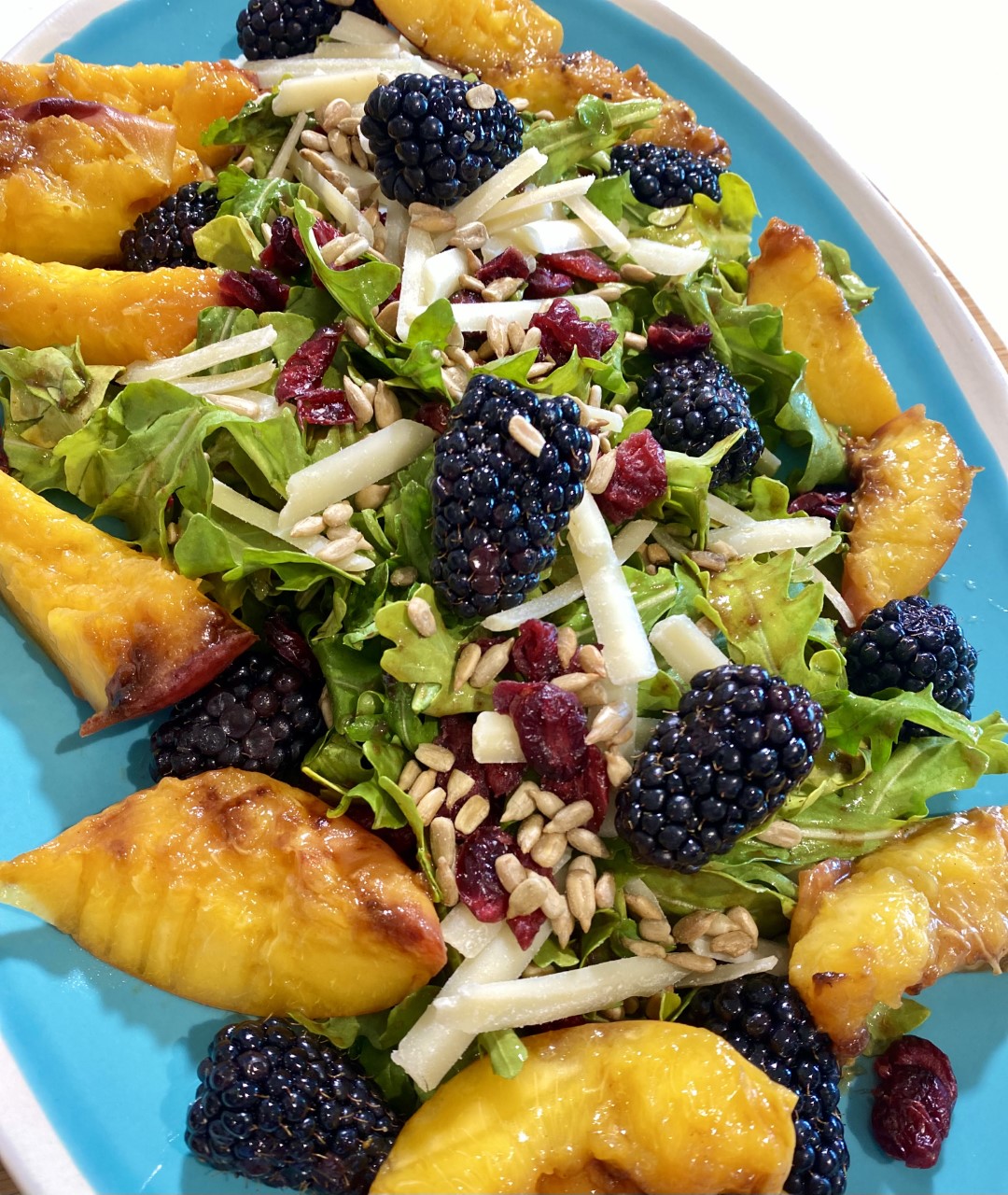 Ingredients:
2 tablespoons avocado oil
2 tablespoons fresh lemon juice (from 1 lemon)
2 teaspoons honey
1/2 teaspoon kosher salt
1/4 teaspoon black pepper
4 large, firm peaches, halved,
Avocado oil cooking spray
6 cups of baby arugula
1 cup fresh blackberries
1/2 cup dried cranberries
2 tablespoons roasted, unsalted sunflower seed kernels
3/4-ounce Parmesan-Reggiano cheese, shaved (about 1/4 cup)
Balsamic vinaigrette of your choice
Directions:
To make the grilled peaches: If you don't have a grill, you can also use an indoor grill pan
Spray your grilling pan with avocado oil spray.
Whisk together avocado oil, lemon juice, honey, salt, and pepper in a medium bowl until combined. Brush peaches evenly with a small amount of the dressing (about 1 teaspoon total).
Place peaches on a grill pan, cut side down over direct heat over the burner turned to medium-high) until the fruit has developed grill marks and started to soften, about 4 to 5 minutes.
Brush the tops of the peaches with oil, turn over and continue cooking, another 4 to 5 minutes.
Final Preparation:
Combine arugula in a medium bowl. Toss in dressing to coat. Arrange on a platter, and top with peaches, blackberries, dried cranberries, sunflower seeds, and cheese.